Concerts
A Celebration of Carolan's 350th Birthday
Eibhlís Ní Ríordáin, voice and harp; Pádraic Keane, uilleann pipes.
0 minutes
Support Material
Must have appropriate ticket to download support material
Return to Concerts & Talks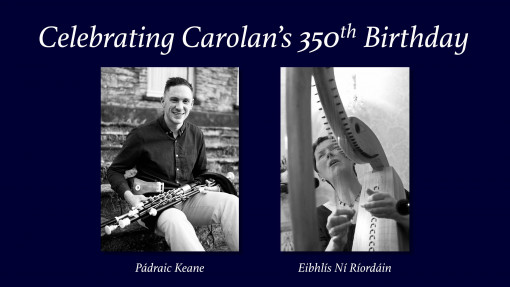 About this recording
Prize-winning singer, Eibhlís Ní Ríordáin meticulously reconstructs, and performs, a neglected genre of Irish music: Irish harp songs from the 17th- and 18th-centuries. These she repositions in their true context: sung in a vernacular style, self-accompanied on a copy of an early Irish harp, using plausible playing techniques and accompaniment idiom. The results bring us the closest yet to the art of harpers such as Turlough Carolan, singing and playing to his patrons in the Great Irish Houses of the eighteenth century. For this 350th anniversary celebration of Ireland's iconic harper – delayed by one year – Eibhlís is joined by another soloist, star young piper Pádraic Keane. Pádraic well deserved his 2011 award of 'Musician of the Year'. He comes from a line of pipers in Galway, in the west of Ireland. Pádraic plays Carolan melodies and also rare, old pipes' repertory that weaves around Eibhlís's song sets, completing this celebration beautifully.
Post festival access: this event recording is available to 'Early-Bird All Access' and 'All Access' until 29th Dec. 2021.