Talks
Historical Irish-harp melodic accompaniment: What did the lower hand play?
Siobhan Armstrong
0 minutes
Return to Concerts & Talks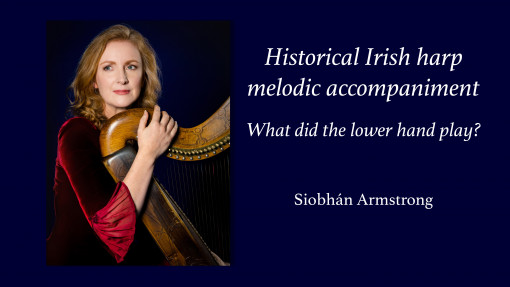 About this recording
It is generally assumed that the old Irish harpers' playing style was lost when the tradition died out around 1800; that only the melodies of their compositions survive. This illustrated talk presents new evidence uncovered by Siobhán Armstrong during her recent PhD studies on the historical Irish 'lower hand' as she now calls it. She outlines a totally accessible, easy-to-reproduce, plausibly authentic playing style, which will appeal to harpists of all levels, particularly those who feel frustrated at handling complicated bass lines, chords and harmonies. This clean, spare, more ancient approach is appropriate for Carolan, and also for the harpers who came before and after him. Hear more about what Siobhán has discovered, taking a close look at facsimile pages from the harp-music collector, Edward Bunting's field transcriptions of the 1790s, in which he gathered music from some of the last early Irish harpers.
Post festival access: this event recording is available to 'Early-Bird All Access' and 'All Access' ticket holders until 29 December 2021.