Concerts
Master Soloists of Irish Music
Siobhán Armstrong, early Irish harp; Ciarán Ó Gealbháin, voice; Breda Keville, fiddle.
0 minutes
Return to Concerts & Talks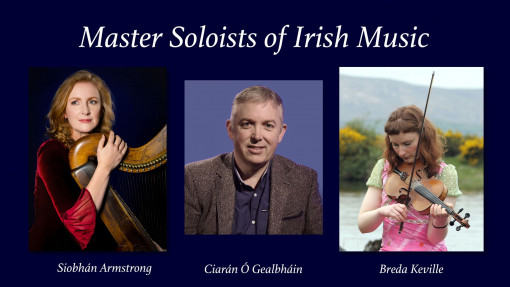 About this recording
Listen to three solo masters of their genres, who in turn all look to star musicians of the past for their inspiration.

Ireland's foremost early Irish harpist, Siobhán Armstrong, plays music of the old Irish harpers, which she lovingly recreates from the earliest manuscript sources, performing them on a replica of the 18th-century Irish Downhill harp.
Ciarán Ó Gealbháin is a prize- winning singer who performs evocative sean-nós ['old-style'] unaccompanied Irish songs from the Ring gaeltacht [Irish-speaking region] in co. Waterford, in the south-east of Ireland, where he was born and brought up.
Master fiddler from Galway, Breda Keville, demonstrates her unhurried, lyrical playing, which has been influenced by the 20th-century fiddler Bobby Casey, and the legendary piper, Willie Clancy, among others.
Post festival access: this event recording is available to 'Early-Bird All Access', 'All Access', and 'Somerset Sunday Add-On' ticket holders until 29th Dec. 2021.